Big Joe unveils user-directed AMR
本周,Big Joe(Booth N6727)透露了其用户指导的自动移动机器人(AMR)的托盘推动者。

By
Roberto Michel
·
March 22, 2023
本周,Big Joe(Booth N6727)透露了其用户指导的自动移动机器人(AMR)的托盘推动者。
Created in partnership with Thoro.ai, an AMR designer for commercial and industrial applications, the Pallet Mover can transport up to 4,400 pounds of materials at speeds as high as 2.8 mph. It can operate on a continuous basis for up to 10 hours at a time.
Able to be set it up and operate in less than 1 hour, the AMR can be used for floor-to-floor pallet transportation and drop-off.
"Since the Pallet Mover can be deployed so easily, users will see immediate productivity improvements and have positive returns on their investment, starting on day one," said Bill Pedriana, chief marketing officer at Big Joe.
Able to be used in manual mode at any time, the AMR provides efficiencies to facilities without requiring any considerable changes in operations. Adjustments in infrastructure, aside from Wi-Fi connections for software updates, aren't necessary either.
"Our Pallet Mover AMR, new lithium sit-down forklifts and other new small format lift trucks are all onsite for users to experience hands on," Pedriana added. "Booth visitors are clearly seeing Big Joe's vision for the future."
ProMat 2023 was held March 20-23 at Chicago's McCormick Place. The tradeshow showcases the latest manufacturing, distribution and supply chain solutions in the materials handling and logistics industry.Modern's complete coverage of the show.
相关话题
大乔叉车
Lift Trucks
ProMat
All topics
About the Author
Roberto MichelRoberto Michel, senior editor for Modern, has covered manufacturing and supply chain management trends since 1996, mainly as a former staff editor and former contributor at Manufacturing Business Technology. He has been a contributor to Modern since 2004. He has worked on numerous show dailies, including at ProMat, the North American Material Handling Logistics show, and National Manufacturing Week. You can reach him at:
[电子邮件保护]
最新产品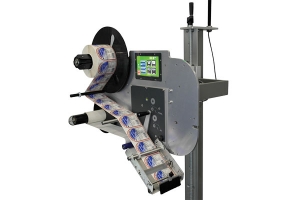 Upgraded label application system has improved features.
Bar code scanner has various autofocus capabilities.
轻松将平台自定义为最佳的工作位置,而无需伸展或伸展。通过稳定提高生产率…
Upgrade your material sorting process with the fast and quiet AS-35 Shoe Sorter – Get faster and more accurate results now!