Brightpick showcases new autopicker
recentl Brightpick(布斯N8332)展示y announced Brightpick Autopicker at ProMat 2023.

By
Bridget McCrea, Editor
·
March 22, 2023
recentl Brightpick(布斯N8332)展示y announced Brightpick Autopicker at ProMat 2023. Attendees will see Brightpick Autopickers in action as they pick tasty snacks for people in the crowd. Brightpick CEO and co-founder Jan Zizka will be there with his team to answer any questions.
"Our patented Brightpick Autopicker is the most advanced fulfillment robot ever created and is a game-changer in the warehouse automation space," said Zizka. "Until now, there has never been a robot capable of both picking and consolidating orders on its own as it moves around a warehouse."

Brightpick Autopickers are like humans with carts, autonomously picking and consolidating orders as they move through the warehouse aisles. It is the first commercially available autonomous mobile picking robot for e-commerce and grocery order fulfillment.

The fully autonomous, end-to-end robotic solution takes less than a month to deploy, enables warehouses to reduce their picking labor by 95%, and cuts costs for order fulfillment by half. A typical Brightpick Autopicker fleet in a warehouse consists of 15 to 100 robots. The entire fleet and fulfillment process is orchestrated and optimized by Brightpick Intuition software.

ProMat 2023 was held March 20-23 at Chicago's McCormick Place. The tradeshow showcases the latest manufacturing, distribution and supply chain solutions in the materials handling and logistics industry.Modern's complete coverage of the show.
Related Topics
Automation
Brightpick
Mobile Robots
Picking
ProMat
All topics
About the Author
Bridget McCrea, EditorBridget McCrea is a Contributing Editor for Logistics Management based in Clearwater, Fla. She has covered the transportation and supply chain space since 1996 and has covered all aspects of the industry for Logistics Management and Supply Chain Management Review. She can be reached at
[email protected]
, or on Twitter
@BridgetMcCrea
Latest products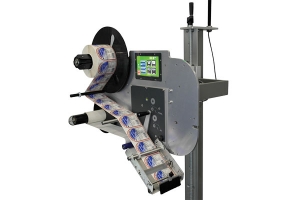 Upgraded label application system has improved features.
Bar code scanner has various autofocus capabilities.
Easily customize the platform to the best working position for you without stretching or reaching. Increase productivity with a stable…
Upgrade your material sorting process with the fast and quiet AS-35 Shoe Sorter – Get faster and more accurate results now!
Latest materials handling news