Garlock focuses on fall protection with new pallet flow pick module gate system
Garlock安全系统(布斯S4223)了an OSHA-compliant solution for pallet flow lanes in elevated pick modules.

By
Bridget McCrea, Editor
·
March 20, 2023
Garlock安全系统(布斯S4223)了an OSHA-compliant solution for pallet flow lanes in elevated pick modules. Designed to enhance worker safety at heights while maintaining productivity in a pallet flow pick module, the PalletFlow Pro is a long-term, cost-effective solution to protecting workers.
The PalletFlow Pro requires no personnel interaction. Once a pallet is charged in the bay, the spring-loaded gate folds down in between the roller lanes below the roller track level facilitating the pallet to a smooth proper sequencing for picking. The gate returns to its upright position when a pallet is not present, while providing fall prevention safety at the unprotected edge.
"PalletFlow Pro is the result of the voice of the customer, a solution needed to help reduce OSHA's number one reportable violation—fall protection," said Mark McLain, Garlock's NA sales manager for materials handling safety. "The gate system is unlike any other designed for pallet flow pick modules…is OSHA compliant, very low cost of ownership, and tested to greater than 10,000 cycles lifetime—a truly innovated solution for workers at height."
ProMat 2023 was held March 20-23 at Chicago's McCormick Place. The tradeshow showcases the latest manufacturing, distribution and supply chain solutions in the materials handling and logistics industry.Modern's complete coverage of the show.
Related Topics
Garlock
ProMat
Safety
All topics
About the Author
Bridget McCrea, EditorBridget McCrea is a Contributing Editor for Logistics Management based in Clearwater, Fla. She has covered the transportation and supply chain space since 1996 and has covered all aspects of the industry for Logistics Management and Supply Chain Management Review. She can be reached at
[email protected]
, or on Twitter
@BridgetMcCrea
Latest products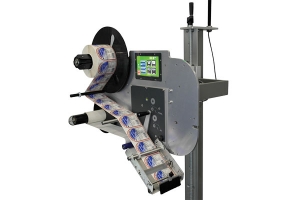 Upgraded label application system has improved features.
High‐Capacity Core IC Pneumatic now available in five different models.
MDI's corrugated plastic hopper bins are the perfect solution for storing, picking, and sorting parts and products.
The Poweramp® LHP Series Leveler is a durable choice for light-medium loads and has been utilized by facilities for over 60 years.
Latest materials handling news