Inside Top Notch Distribution: Bringing robotics to hardware distribution
Top Notch Distributors has charged up its distribution activities with autonomous mobile robots.

By
Bob Trebilcock
·
November 15, 2021
Distribution network has 4 facilities: St. Charles, Mo.; Carson City, Nev.; Mansfield, Mass.; and Honesdale, Pa.
Size:100,000 square feet (St. Charles)
Throughput:3,000 orders and 4,000 packages per day on peak days
Products Handled:Architectural door hardware from more than 100 market-leading brands of residential, commercial and electronic access control systems
SKUs:80,000+
Shifts per day/Days per week:1 shift, 5 days a week—varies by season and promotion
---
AtTop Notch Distributors'Nevada and Missouri distribution centers, autonomous mobile robots (AMRs) have brought a new level of efficiency to order fulfillment processes. Robots are currently being used in facilities in Carson City, Nev., and St. Charles, Mo., with plans to introduce them in Massachusetts. While the distribution centers use similar processes, the description here is for the Missouri DC, which is the largest in the network.
Check out the feature article on Top Notch: A Top-Notch Application of Robots
Receiving:
Most inventory is delivered to receiving(1)in truckload quantities. In the inbound processing area(2), associates scan newly received merchandise into the warehouse management system (WMS) and then stage pallets for putaway.
Putaway into storage:
Inventory is stored and picked from two areas. The largest of the two is a mixture of pallet rack and shelving(3)—some items will be stored in pallet quantities and others in case level quantities. The fastest-moving items are stored in case flow racking(4), which is easier to replenish. Associates are system directed to a storage location where they scan a location tag to confirm the putaway in the WMS. The inventory is now available to promise. Newly received merchandise is generally processed and putaway into storage within 24 hours of receipt.
Picking:
Currently most orders are managed by the autonomous mobile robots, but some items are still manually picked to carts.
Manual picking:
For manual picks, associates are directed to a storage location. Once all the items for a cart are picked, they are inducted onto a shipping conveyor line(5)for final processing and then shipping(9).
Robotic picking:
All orders are downloaded from the WMS to6 River's操作系统。优化选择路径和使用of the autonomous robots, orders accumulate in the WMS; the system is able to create more optimal pick paths with the minimum amount of travel when it has a larger batch of orders. At the appropriate time, the robots are deployed and travel to a pick location. As a rule of thumb, Top Notch Distributors deploys two to three robots per picker. Using a combination of information on the screen and lights, associates are directed to a pick location; told how many items to pick; and where to put them on the robot. Associates confirm picks by using onboard scanning on the robot. The robot then goes to the next pick location. Occasionally, a group of robots will pick different items for an order. Those are temporarily stored on shelving in a consolidation area until all of the robots have finished picking for that order and the system prints a completion ticket.
Packing and value-added services:
Once all of the items for a robot have been picked, it travels to conveyor induction station. Cartons that are ready for shipping are diverted to a dunnage and taping area(7)and then to an automatic print-and-apply station(8). The cartons are then conveyed to shipping.
Items that require customization, such as locks to be specially keyed, are directed to a value-added services area(6). Once the work is completed, they are inducted back onto the conveyor system for taping and labeling before shipping.
System suppliers:
System design, integration & robotics:6 River Systems
架设计& &输送线integration:Kuecker Pulse Integration
ERP:Epicor
WMS:Epicor and 6 River Systems
Mobile computing & bar code scanning:Zebra
Motor-driven roller conveyor:Hytrol Conveyor
Racking:Mecalux
Carton flow rack:Interroll
Lift trucks:Raymond
What's Related in Robotics
SVT Robotics announces $25 million in Series A funding found
SVT Robotics, which offers a software platform to simplify integration and deployment of robotics, will use the funding to advance the platform and its orchestration capabilities.
Hit Promotional Products leverages robotic workcells
The custom robotic workcells reduced order fulfillment time.
A Top-Notch Application of Robots
Top Notch Distributors employed autonomous mobile robots to create safer and more efficient distribution centers.
Inside Top Notch Distribution: Bringing robotics to hardware distribution
Top Notch Distributors has charged up its distribution activities with autonomous mobile robots.
Tracking the robotics revolution
This month in Modern, two features take the temperature of where we are in the application of robotics in warehouse/DC operations. Executive editor Bob Trebilcock takes us inside Top Notch Distributors, a leading supplier of architectural door hardware
More Robotics
Related Topics
6 River Systems
Epicor
Hytrol
Robotics
System Report
Zebra
All topics
About the Author
Bob TrebilcockBob Trebilcock, editorial director, has covered materials handling, technology, logistics and supply chain topics for nearly 30 years. In addition to Supply Chain Management Review, he is also Executive Editor of Modern Materials Handling. A graduate of Bowling Green State University, Trebilcock lives in Keene, NH. He can be reached at 603-357-0484.
Latest products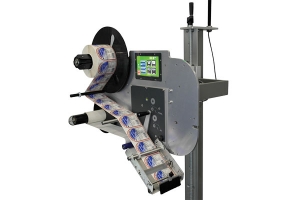 Upgraded label application system has improved features.
Super Scan Label Holders are Ideal for pallet rack applications or wherever large labels are required.
The Poweramp VH Series leveler is a durable choice for any loading dock and has been utilized by facilities throughout North America…
Machine groups order lines for buffering, small parts picking
Latest materials handling news