Tailor lift truck leasing to your fleet
Power by the hour is still evolving, but data on fleet use can help devise the right lease arrangements for your fleet.

By
Roberto Michel
·
September 8, 2022
Leasing has become a common way of acquiring lift trucks, especially for busy, high-volume sites for many reasons. For one thing, it frees up capex for other projects, like adding buildings or production machinery. Second, it offers a preplanned timeframe for transitioning to newer equipment, rather than trying to squeeze a full lifespan out of older units that likely aren't as productive as newer ones.
"For the heavier use sites where lift truck use is an integral part of the business, where they are running lift trucks all day for one or more shifts, [leasing] is the primary way of acquiring new equipment and even some used equipment," saysDuane Hardy, president ofForklift Systems, a lift truck dealership based in Nashville.
哈迪说:"租赁具有多个优势,包括保留资本预算。""But another factor businesses like about it is that you can make a decision about the ideal time to replace the equipment based on the application and expected hours you'll be running it and find a lease arrangement to match, knowing you'll be replacing it at the end of that term with a new unit."
Hardy says at lower volume sites with relatively low run-time hours a capital purchase can still make good sense, but for busier operations, leasing is a streamlined way to acquire and budget for a fleet of newer lift trucks that are less likely to have unexpected downtime. "We believe in it for our own business, for our service trucks," says Hardy.
Leasing does have its nuances, even for sites inclined toward it. One piece of advice Hardy has is that it helps to know the different applications and use patterns for different trucks in your fleet, and tailor leases accordingly. For example, trucks in receiving might see very heavy use, and need more hours built into the lease, while trucks used for maintenance or other purposes might see significantly lighter use, so a lower cost lease with a tighter hour limit might do fine for these units.
Another leasing-related trend is power by the hour, a flexible contract arrangement in which fees can flex based on how much a truck actually gets used. The concept has begun to catch on in Europe, notesDavid Jarr, general manager of dealer development at lift truck OEMMitsubishi Logisnext Americas.
"In the United States, power-by-the-hour or pay-per-use type approaches are evolving and gaining some traction as certain OEMs and independent dealerships provide similar offerings to targeted users," Jarr says. "However, these payment models have not been as heavily promoted in the United States as it has been by Jungheinrich in Europe."
With any lease or rental decision, adds Jarr, data helps tailor optimal arrangements. "Fleet assessment is a must for any company looking to lease lift trucks," he says. "It's important to ensure that the right type of lease will provide value through its expected life cycle. Understanding the range of lift trucks in the fleet you own and how the trucks are used can make all the difference in avoiding excessive maintenance costs, overtime expenses or trucks becoming obsolete through the lease period."
John Winter, chief operating officer atConcentric, which specializes in providing forklift and backup power for companies, notes the technology to support power by the hour exists, though it's early days for the model. "It's not yet a major trend, but a select few companies are ready to match their equipment costs to the revenue/pallet throughput," says Winter.
With any lease decision, Winter agrees, the more data the better, both in terms of lease arrangements for the trucks or for motive power systems, which can also be procured by lease or under a fixed monthly fee program that bundles in maintenance.
"Proper fleet management means you have all of the asset data you need at your fingertips—make, model, age, usage, costs, power consumption and application requirements," Winter says. "That helps drive the right leasing programs, both for forklift equipment, and for the power management system."
More Lift Truck Tips
相关话题
Finance
Leasing
Lift Truck Tips
Mitsubishi Logisnext Americas
All topics
About the Author
Roberto MichelRoberto Michel, senior editor for Modern, has covered manufacturing and supply chain management trends since 1996, mainly as a former staff editor and former contributor at Manufacturing Business Technology. He has been a contributor to Modern since 2004. He has worked on numerous show dailies, including at ProMat, the North American Material Handling Logistics show, and National Manufacturing Week. You can reach him at:
[电子邮件保护]
Latest products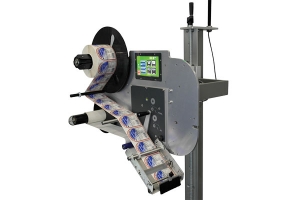 Upgraded label application system has improved features.
High‐Capacity Core IC Pneumatic now available in five different models.
Get the flexibility and reach of a human with the speed and reliability of a robot
转储容器180度的能力。
Latest materials handling news